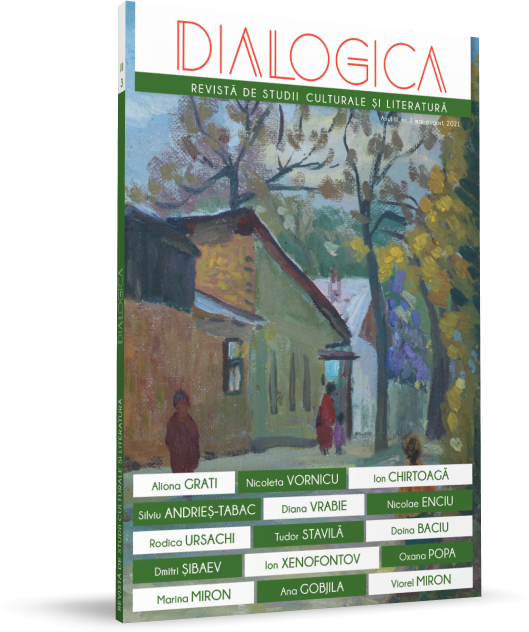 DIALOGUE
Aliona GRATI, Nicoleta VORNICU Metropolitan Gavriil Bănulescu-Bodoni: the "complete portrait" of a providential personality
INTERTEXT
Silviu ANDRIEȘ-TABAC Chronicle of the elaboration of new heraldic and vexillological symbols of Chișinău municipality and its sectors (II)
Ion CHIRTOAGĂ Post offices on the route Iași – Chișinau in the medieval period and the beginning of the modern one
Nicolae ENCIU Bessarabia as a preface, content, summary and conclusion of a life lived under four regimes
ACENTRICS STUDIES
Rodica URSACHI The specifics of chromatics in the national painting of the interwar period (1918–1940)
Vasile IONIȚĂ, Loredana AXINTE, Rodica POP Restoration of a traditional indian instrument – Araswati Vina. An interdisciplinary approach
Tudor STAVILĂ Olga Plămădeală – a chronicler of the arts from interwar Bessarabia
Dmitri ȘIBAEV The image of the contemporary in the creation of Alexei Colîbneac
THE SOCIAL LIANT
Oxana POPA Sociology of the literary text according to Pierre V. Zima
Doina BACIU Literary circle and digital poetry: some considerations
Ion XENOFONTOV Alley of Illustrious Scientists and Doctors: identity mark
MY CITY
Diana VRABIE Balti city through the lens of (non)melancholic interwar writers
Marina MIRON, Viorel MIRON On the subject to the contribution of the different ethnic groups to the history and development of Chișinău city
CULTURAL JEWELS
Ana GOBJILA Valentina Brâncoveanu – the word of the romanian, each with his own story
IMAGINARY OF THE LETTER
Mirolina MOCANU My white stone city
Romanița STEGARESCU The great noon
THE OTHER'S WORD (journal's inquiry)
Larisa NOROC Today's young people want to hear the scientific truth
THE LAMPSHADE FOR A LIBRARY
Oleg Serebrian, On the contrary
Valentina Rusu Ciobanu, Lică Sainciuc, A little history from the family album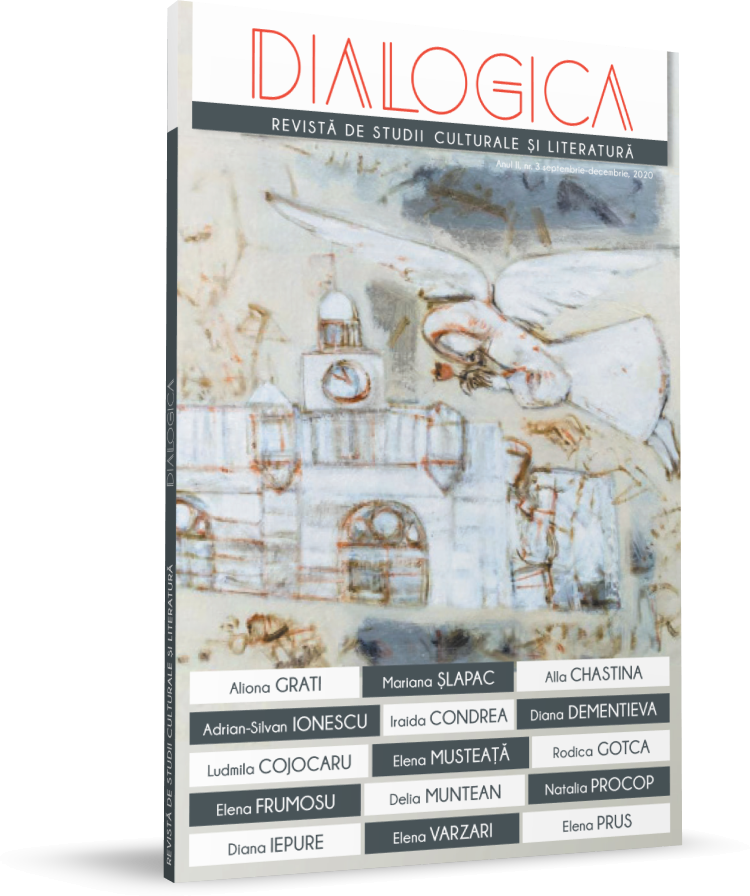 DIALOGUE
Aliona GRATI, Mariana ȘLAPAC, Alla CIASTINA Alexandru Bernardazzi: contributions to the aesthetics of Chișinău
INTERTEXT
Alla CHASTINA The well-known architect Alexander Iosifovich Bernardazzi (1831–1907) (on the occasion of the 190th anniversary)
Diana DEMENTIEVA A model of syncretic reading illustrated on the novel The Name of the Rose by Umberto Eco
Rodica GOTCA The digital phenomenon: literature between crisis and conceptualization
ACENTRICS STUDIES
Adrian-Silvan IONESCU Reminisces of carnival. The Satirists and the 19th century Moldo-Wallachian Balls
Elena MUSTEAȚĂ Illustration of national book from the second half of the 20th century: technical procedures and artistic features
THE SOCIAL LIANT
Ludmila COJOCARU Children and the war from memories of the Gulag survivors
Elena FRUMOSU (DARII) Some considerations regarding the acquisition of the status of dvorean in Basarabia in the first half of the nineteenth century
MY CITY
Delia MUNTEAN Urban cultural alternatives
CULTURAL JEWELS
Natalia PROCOP Chisinau of Alexandru Bernardazzi in painting: signs of the time
IMAGINARY OF THE LETTER
Diana IEPURE Liberty, city seagulls, the chocolate soldier, I am counting the levels
THE OTHER'S WORD (journal's inquiry)
Iraida CONDREA "I think that in our great haste we let very important things go unnoticed"
THE LAMPSHADE FOR A LIBRARY
70 years since the founding of the Institute of Art History "G. Oprescu" (coord. Adrian-Silvan Ionescu);
Iacob Florea, A robe for a century. Oblomovism, in controversy;
Delia Muntean, The Decalogue of my time;
People of the word (coord. Aurelia Hanganu);
Alexandru Lupașcu-Bohanțov, Television Theater. Between the modern canon and postmodern format;
Tudor Stavilă, The Fine Arts of Bessarabia (Vol. II);
Ion Valer Xenofontov, Japca Monastic Complex: History and Spirituality;
Elisaveta Iovu, Literary Imagology: schools, directions, methods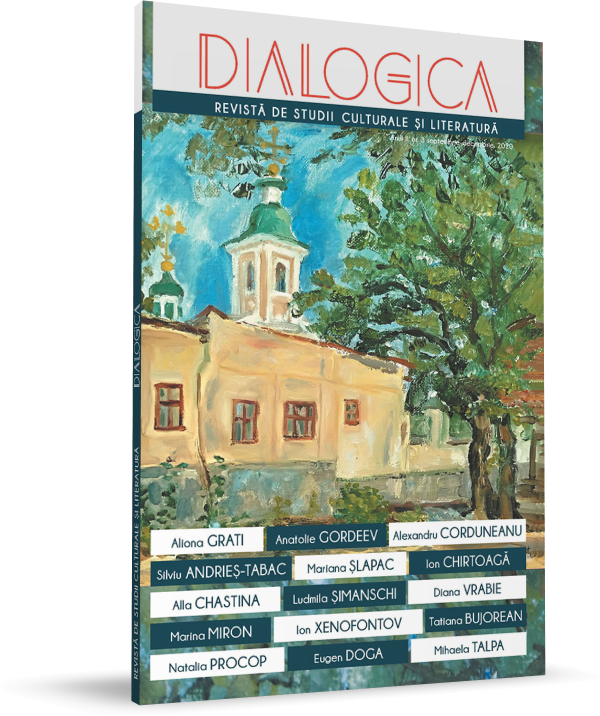 DIALOGUE
Aliona GRATI, Alexandru CORDUNEANU, Anatolie GORDEEV Chișinău: the aesthetics of urban space as a means of survival
INTERTEXT
Silviu ANDRIEȘ-TABAC Chronicle of the elaboration of new heraldic and vexillological symbols of Chișinău municipality and its sectors
Ion CHIRTOAGĂ The Chișinău in the first stage of existence
ACENTRICS STUDIES
Mariana ȘLAPAC The architecture of interwar Chişinău
Alla CHASTINA From the history of English club in Chișinău
Ludmila ŞIMANSCHI The polyphonicmeaning of the Chișinău urban space in the creation of Sergiu Matei Nica
Diana VRABIE Aspects of Chișinău in Gala Galaction's Evocations
Aliona GRATI The interwar Chișinău – "a picturesque city, full of curiosities through which history has not passed without a trace"
THE SOCIAL LIANT
Ion XENOFONTOV, Lidia PRISAC The foreign students at the State University of Medicine
and Pharmacy "Nicolae Testemitanu": academic results and daily adaptation
MY CITY
Marina MIRON, Viorel MIRON Chișinău in tourist routes: some historical aspects
Tatiana BUJOREAN Production of clothing in post-war Chisinau
CULTURAL JEWELS
Natalia PROCOP Triconc churches in Chișinău in the vision of plastic artists
IMAGINARY OF THE LETTER
Mihaela TALPA The mystery of the native land
THE OTHER'S WORD (journal's inquiry)
Eugen DOGA Behind the scenes of the writing The Chișinău Hymn
THE LAMPSHADE FOR A LIBRARY
Bo Larsson, At Home or Abroad? Chișinău, Černivci, L'viv and Wrocław: Living with Historical
Changes to Borders and National Identities; The identities of Chișinău (coord. Sergiu Musteață,
Alexandru Corduneanu); Mariana Șlapac, The Comparative castellology; Tudor Stavilă, The fine
arts of Bessarabia; Michael Ondaatje, The standby light; The memory archives … Vol. 3, Tom 3 (coord. Ion Valer Xenofontov)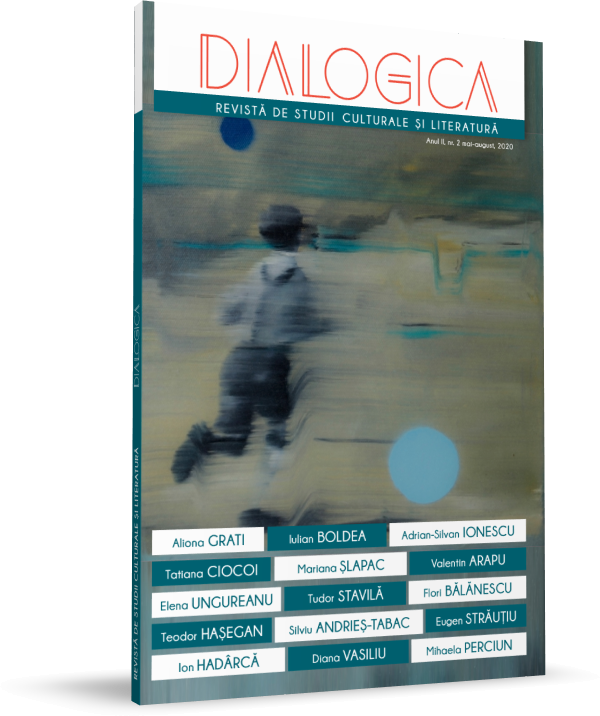 DIALOGUE
Aliona GRATI, Adrian-Silvan IONESCU Something about engaged art, about militant art: relics, landmarks, ephemeridae?
INTERTEXT
Iulian BOLDEA Petru Cimpoeşu's prose. Limited liability fiction
Tatiana CIOCOI "Serotonin" of Michel Houellebecq: a novel of the "capitalist hell"
Valentin ARAPU Reflection of the plague and its zoomorphic symbols in historical sources and literary writings
ACENTRICS STUDIES
Tudor STAVILĂ A brief history of the Fine Arts in Bessarabia in the 20th century
Flori BĂLĂNESCU The relationship of writers with Power in Romania in 1977
THE SOCIAL LIANT
Silviu ANDRIEȘ-TABAC Heraldic art. Theoretical aspects
Elena UNGUREANU A phenomenon of digital culture: the internet-memes
Teodor HAŞEGAN The Salon of mobilized artists, Iasi – Chisinau, January 1918
MY CITY
Mariana ȘLAPAC The Parliament's building of the Republic of Moldova
Eugen STRĂUȚIU Art and society in modern Sibiu
CULTURAL JEWELS
Doinel TRONARU CIRCO[stanze]
IMAGINARY OF THE LETTER
Ion HADÂRCĂ The sonnet written directly on the mask; Naked sun, of Epiphany; Spacings; The
differences of everything; Establishment; I'm staying home; Roll; In this star-letter; The scar in the
shadow; Symmetrical anxiety
THE OTHER'S WORD (journal's inquiry)
Mihaela PERCIUN Why is today an ideas sold, not just people?
THE LAMPSHADE FOR A LIBRARY
V. Xenofontov, Encyclopedia of curiosities, Vol. II; C. Ungureanu, A secret history of Romanian
literature, Vol. III; W. Egginton, Cervantes, the man who invented fiction; A. E. Hotchner,
Hemingway's loves narrated by himself and recorded by A. E. Hotchner; M. Perciun, Satisfaction;
D. Foenkinos, To Beauty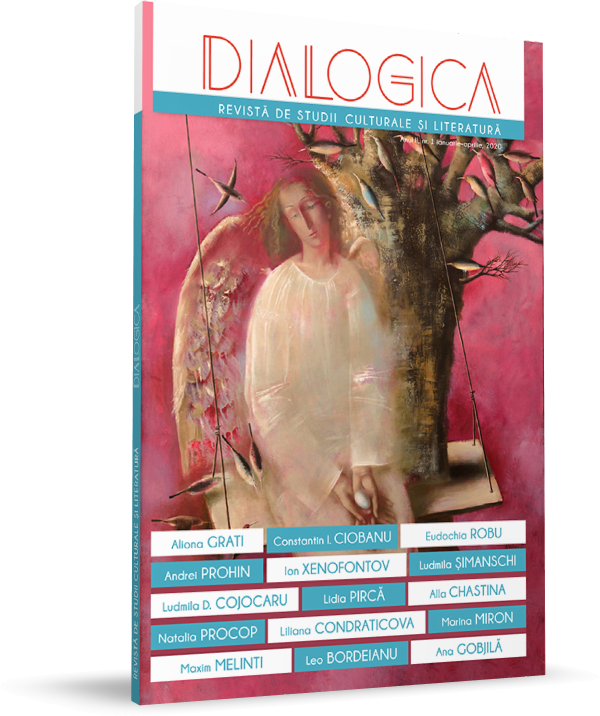 DIALOGUE
Aliona GRATI, Constantin I. CIOBANU Art and Religion: forms of relationship
INTERTEXT
Ludmila ŞIMANSCHI Faith and human powerlessness in the face of tragedies, parabolically shaped in the novels Three hours in hell by Antonie Plămădeală and Apopcalipsis by Adrian G. Romila
Lidia Carmen PIRCĂ Religious dimensions of Octavian Goga's lyric
Marina MIRON, Viorel MIRON Vision of bulgarian poets from Bessarabia on the role of the village and traditional housing in the protection of identity and faith
ACENTRICS STUDIES
Andrei PROHIN "When Adam delved and Eve span…" The first humans' labour in the medieval imaginary world
Natalia PROCOP Moldovan plastic artists in the field of textile art schooled in Lvov National Academy of Arts
Ludmila COJOCARU Tradition within the historical contexts of liminality. The wedding of deporties in documents and the oral history witnesses (II)
Liliana CONDRATICOVA, Marina CERCAȘIN The wedding ceremony: indispensable cultured and secular accessories
THE SOCIAL LIANT
Andrei OISTRIC The retrospective review theological education of Moldova
Ion XENOFONTOV Japca Monastery – a history of spiritual resistance
Rodica GOTCA Religion in cyberspace
MY CITY
Aliona GRATI Royal ceremonies at the Cathedral
Alla CHASTINA The grave of the son of the leader of the Serbian people in Chisinau: the history of a modest monument of the first half of the XIX century and the participation of the Royal Academy of Sciences of Serbia in its preservation
CULTURAL JEWELS
Ana GOBJILĂ The sacred painting of Robu Eudochia
IMAGINARY OF THE LETTER
Maxim MELINTI About spiritual blindness, Your life as a fig tree, If I could fly, Look, I am a weak man, Looking for service
THE OTHER'S WORD (journal's inquiry)
Leo BORDEIANU Poetry as a form of prayer
THE LAMPSHADE FOR A LIBRARY
M. Brihuneț The orthodox cemeteries from the Republic of Moldova; N. Procop, V. Negru, L. Sîrbu,
M. Cercașin, The Clothing terminology. Romanian-English illustrated dictionary; D. Postolache,
The reflexive diagonals. From A to Z; T. Ichim The representative figures of the lyrics Bessarabian's at the Opera Theaters in Cluj and Bucharest from the period interwar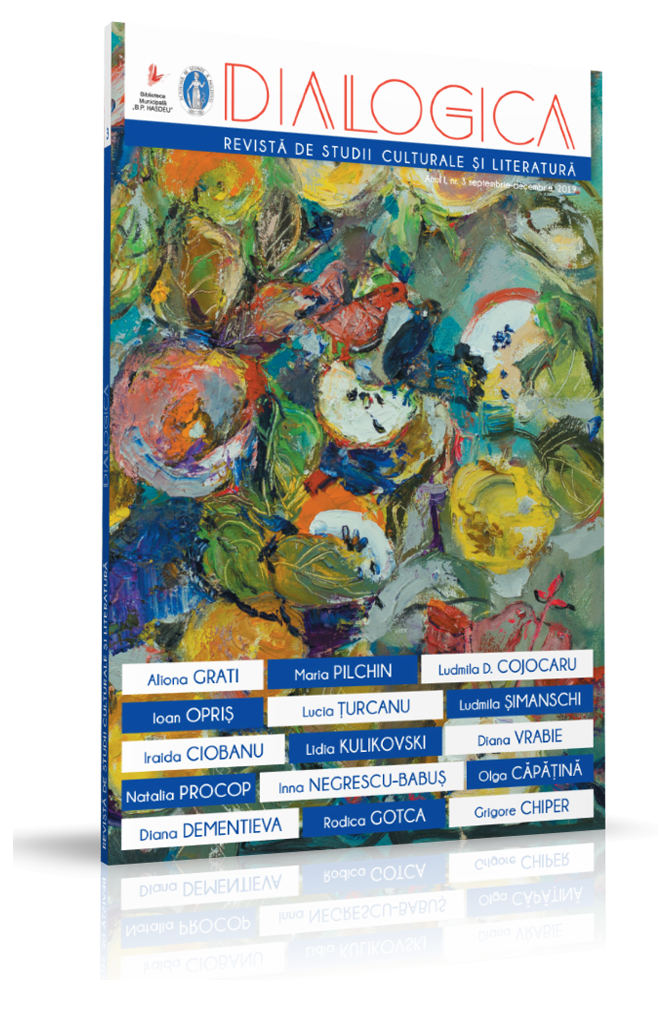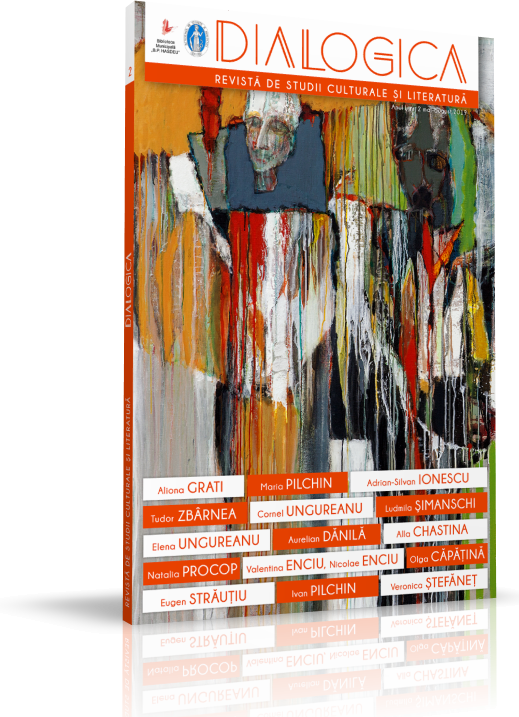 DIALOGUE
Aliona GRATI, Maria PILCHIN The literary critic among poetry books
INTERTEXT
Cornel UNGUREANU Mihai Eminescu. Center and the path to it
Ludmila ŞIMANSCHI The mode of existence of Călina Trifan's poetry in a postmodern world
Elena UNGUREANU Nicolae Mătcaș: "I am, like Manole, a humble mason"
Elizabeta IOVU Suggestions for the interpretation of the literary text from the literary imagology's perspective
ACENTRICS STUDIES
Adrian-Silvan IONESCU A country photo portrait of 1923: E. O. HOPPÉ in Greater Romania
Aurelian DĂNILĂ The Rahmaninov family saga and its connection with Alexandr Ziloti
Alla CHASTINA The creativity of architect G. Toricelli (1796–1843)
Natalia PROCOP The art of batik in Moldova
THE SOCIAL LIANT
Valentina ENCIU, Nicolae ENCIU The idea of the unification of Europe in the rearview of history
Olga CĂPĂŢÂNĂ Moldovan genocide and deportations
MY CITY
Aliona GRATI Mythopoetic of Chisinau City (Visitor's file from the first half of the 20th century) (II)
Eugen STRĂUȚIU The Origins of the multiethnic Sibiu
CULTURAL JEWELS
Petru BEJAN Tudor Zbârnea – A painter of ideas
IMAGINARY OF THE LETTER
Ivan PILCHIN Ars poetica, your light, mahiro takana, ivanghelia for you
Veronica ȘTEFĂNEȚ "Free fall", any joy, don't think that, take my breath away
THE OTHER'S WORD (journal's inquiry)
Virgil BOTNARU, Cristina DICUSAR, Rodica GOTCA, Tatiana GROSU, Artiom OLEACU, Anastasia PALII, Vitalie ȘEGA, Veronica ȘTEFĂNEȚ
THE LAMPSHADE FOR A LIBRARY
Leo Bordeianu, Wings for elevation; Eight and Eleven young poets from Chisinau (ant. Dumitru Crudu); Rodica Gotca, Borders drawn in the air with a fist; Virgil Botnaru, Change of attitude (coord. Ion Valer Xenofontov)