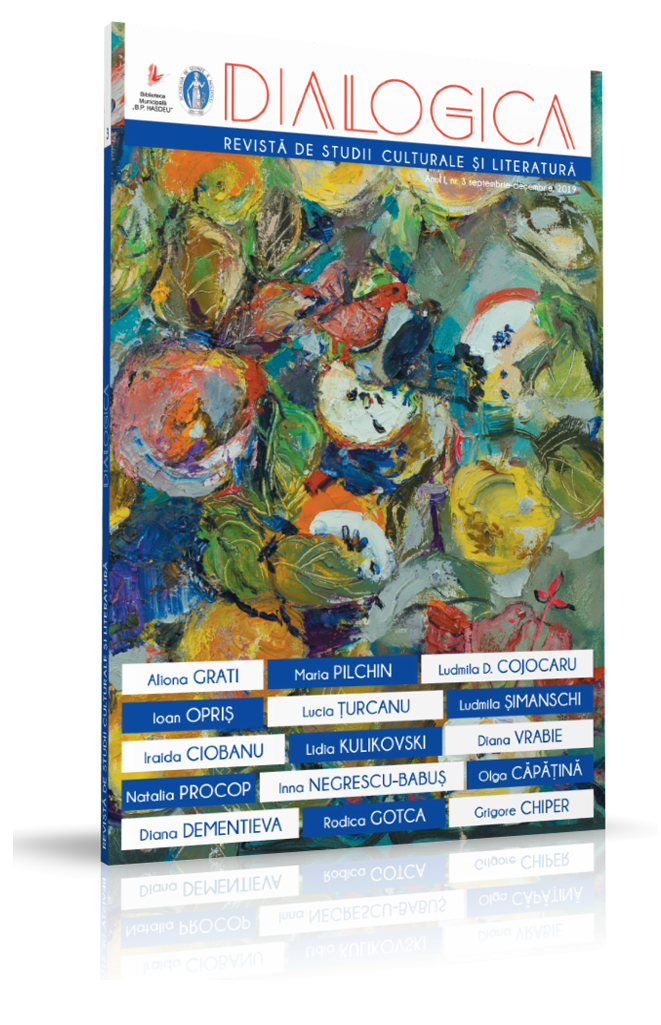 DIALOGUE
Aliona GRATI, Maria PILCHIN In competition with the novel, short prose
INTERTEXT
Ludmila ŞIMANSCHI Short prose: adventure of narrative formulas (with reference to B. P. Hasdeu, C. Negruzzi, L. Donici, P. Goma)
Lucia ȚURCANU Story with changed ending. A game?
Lidia KULIKOVSKI The library and the virtual world
Rodica GOTCA Rodica Gotca Cybepoetics − a new way of thinking the world
ACENTRICS STUDIES
Ioan OPRIȘ Basaraban realities before union
Ludmila D. COJOCARU Tradition within the historical contexts of liminality. The wedding of deporties in documents and the oral history witnesses
Diana DEMENTIEVA Hans Robert Jauss: The Main Concepts of the Aesthetic of Reception
THE SOCIAL LIANT
Oxana POPA Literary text as a speech of sociality. French sociocritique
Inna NEGRESCU-BABUȘ A paradigm change in foreign language teaching: Towards an intercultural pedagogy
MY CITY
Aliona GRATI Mythopoetic of Chisinau City (Visitor's file from the first half of the 20th century) (III)
Diana VRABIE Reflections of the collective memory in cultural itineraries of Iasi
CULTURAL JEWELS
Natalia PROCOP The folk motifs in the creation of Iraida Ciobanu
IMAGINARY OF THE LETTER
Olga CĂPĂŢÂNĂ Smile
Grigore CHIPER From C to Ch.
THE OTHER'S WORD (journal's inquiry)
Horia GÂRBEA "I write with pleasure the short prose"
THE LAMPSHADE FOR A LIBRARY
Horia Gârbea Pies with pride; Vitalie Ciobanu Days after Oreste; Lilia Calancea Wedding Sketches;
Nicolae Spătaru The man banished by clocks; Short prose (anthology Iulian Ciocan); 1312 sirens.
Romanian prose from the second decade (anthology Horia Gârbea); Vladimir Ţurcanu Stephen
the Great. The return; Elena Prus The Nobel Prize for Literature as a Geocultural Heritage;
Iurie Colesnic Unknown Bessarabia; Radu Cernătescu The antiparadise of Mihai Eminescu